Feather Dog Outfitters - Testimonials
Here's what a few of our customers have had to say about us.
Have a testimonial of your own to share?
Send a Testimonial
Zack Thurman
Fall 2017 - Redding, Ca
I had the pleasure to fish with Capt.Gregg in the bay for Stripers, and all I can say is "WOW"!The Captain is extremely knowledgeable, enthusiastic, and most importantly very professional. His knowledge of the bay was especially impressive and his enthusiasm will ensure that you will have a great day. To top it off this incredible unique fishery is one that any Striper fisherman should check out if they haven't done so. Thanks, -- Zack Thurman The Fly Shop,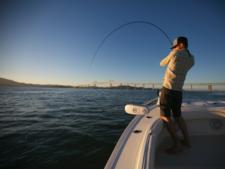 Riley Johnson
Fall 2017 - Redding, CA
Thanks to a tip from a buddy at The Fly Shop, I had the opportunity to experience the most productive day of saltwater fishing in my life yesterday! A friend and I hooked 75+ fish in 6 hours of fishing. As an avid fly-fisherman and north state resident, I am always on the lookout for a unique fishing experience. Fly fishing for trout is great, but when was the last time you stripped streamers for hard-hitting bass all day? Captain Gregg has all the tackle and equipment you will need, plus an impressively equipped boat that is perfectly suited to fly fishing in the bay. Over the years I have fished with most of the guides from many outfits in our area, but the Captain is head and shoulders above the rest. In addition to providing a clean boat and professional demeanor, Gregg works harder than any guide I've fished with to get his clients on fish. Even if you are an experienced angler, you'll come away a better angler after fishing with him. Already looking forward to our next trip!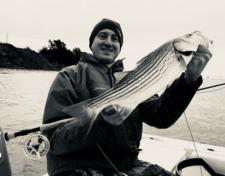 Luke P.
Fall 2017 - SF Bay
I had an amazing day on the Bay with Gregg. He is a world class guide with the perfect boat designed for fly fishing. We caught countless striped bass on fly including a couple really nice fish. Gregg works hard to make sure you have the best possible experience and his attention to detail did not go unnoticed. He also doubles as a photographer so count on some of the best fish pics you have seen to take home with you. Thanks so much Gregg (and Riley)! Hope to get out there again soon. Luke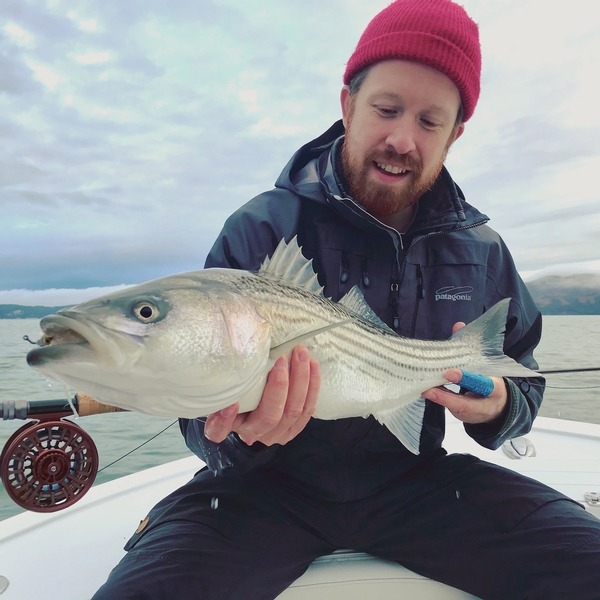 Jim Peacock
Oct 2017 - London,UK
The day's striper fishing on the Bay that I had with Captain Gregg a couple of weeks ago is hands down one of the best days out I have ever had a with a guide. From the emails conversations and his honesty about a previous trip that we call off due to terrible conditions I could fishing with Gregg was going to be a great experience and he didn't disappoint. He went out of his way to accommodate my lack of preparation and changing pick-up location at the last minute and provided top notch kit and flies for me to go after the plentiful stripers he put us on across the Bay. Not only was he super accommodating, knowledgable, patient, insightful and generous with his time he was also just a down right great bloke to spend a day on the water with. We had a blast. I can tell you there is no better way to spend a sunny Sunday morning than blasting across the Bay from hot spot to hot spot while listening to Bob Marley or Led Zepplin on the awesome soundsytem his boat of litter out with. Alongside the good company, music and banter Gregg knows where the fish live, what they eat and when they eat it. My arm was so sore after our trip and the 40+ fish we brought to the boat, but not as sore as my jaw from the permanent ear-to-ear grin I wore for the whole day. If you are in San Francisco and want to fish the Bay there is not better guy to do it with than Captain Gregg.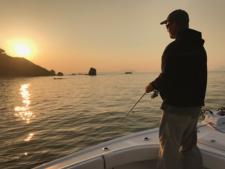 James Gunn
Fall 2017 - Utah
Had a great day on the bay for stripers. Great boat and equipment! Capt. Gregg was very knowledgeable about the area and the fishing. Definatley would recommend a day on the water with him to anyone!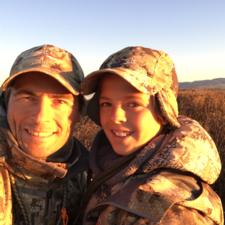 Jonathan Hart - Founder, Sitka Gear
Fall 2016 - Location
Shotgun, fly rod, spinner, it doesn't matter. Capt. Gregg is the man! Having spent numerous hours on the water with Gregg, not only have I had the best of times and learned something new every time about our sport but also the Bay Area, I've been so privileged to see the time and energy Gregg invests into our next generation of sportsmen and women :-) I know my son is a better person because of him.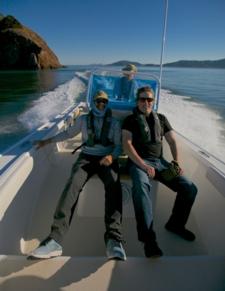 Henry Little
Fall 2017 - San Francisco, CA
Guide extraordinaire Capt. Gregg Holland generously guided two vet participants from San Francisco's Project Healing Waters Fly Fishing program on San Francisco Bay on September 26, 2017. The vets had a "day in your life" experience, landing between 30 and 40 striped bass, while learning advanced angling techniques from Gregg. Not only was the fishing terrific and the weather picture perfect, but also the camaraderie fostered by Gregg was exceptional. Here's to Capt. Gregg for helping those to whom we all own so much!
Project Healing Waters Fly Fishing-San Francisco Program
September, 2017 - San Francisco, CA
Guide extraordinaire Captain Gregg Holland took two PHWFF-SF veteran participants on a "day-of-your-life" striper fishing trip on San Francisco Bay on September 26, 2017. Not only was the weather perfect and the striper fishing exceptional (30-40 stripers were landed; the sea lions and seals got a few too!), but also Gregg's coaching and the camaraderie he sparked were priceless. Thanks Gregg for supporting our vets, to whom we all are so indebted! Henry Little, Program Lead of PHWFF-SF and Vietnam combat vet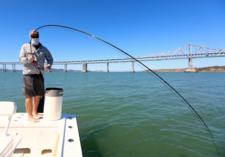 Tim McDermott
Fall 2017 - San Francisco CA
Captain Gregg provided my friend and me with an incredible day on the Bay with over fifty stripers caught ranging from schoolies to five pounds. While the fishing was tremendous and the boat immaculate it was Capt. Gregg's consummate professionalism, apt instruction and personable nature that sticks with me more than the bent rod. There is no doubt that I will use him again in the Bay and may try my hand at an offshore rockfish trip before the season ends. If you forget any gear or are unprepared for the trip have no worries, he has top of the line rods, reels and a variety of integrated sink-tips to meet any situation and can provide casting and landing instruction as needed. I have used guides in the mountains and in the salt, Capt. Gregg is best in breed - period.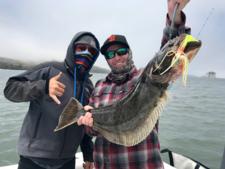 Marty
Summer - Rohnert Park, CA
We had an amazing day on the water with Capt. Gregg. He was super accommodating. We communicated several times leading up to the trip to talk about the bite and weather conditions. The boat was beautiful. All the gear top of the line. As a fisherman I really appreciated being able to use such nice gear. Capt. Gregg was great to hang out with and a great teacher. I would highly recommend Feather Dog Outfitters to anyone looking for a day they will never forget. Thanks Again! Can't wait for our next trip.